BODYGUARDS VIP PROTECTION SERVICES
LOS ANGELES
FOR IMMEDIATE RESPONSE CALL
1 (866) 212-5276 or (310) 859-2700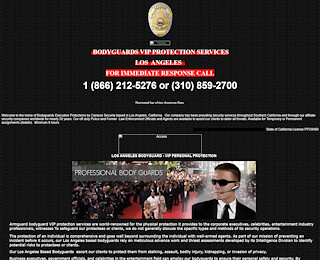 Since we started providing professional bodyguards, Los Angeles is a safer place in which to be. We are Bodyguards Executive Protections, and we have been providing professional personal protection for more than thirty years. In this time we have kept presidents, celebrities, CEOs, dignitaries and other people safe from all sorts of harm.
You see, we are bodyguards Los Angeles that do more than simply react with precision when something untoward occurs in the vicinity of one of our clients. We do advance research so we are able to plan ahead for any sort of eventuality. These days, nobody can be too cautious when it comes to dealing with fans and followers. In an ideal world, you would never require our bodyguards Los Angeles services. But things are the way they are, so it is entirely prudent to hire professional protection in certain circumstances.
You don't have to be a famous or notable celebrity in order to make use of our professional protection services. If you are going to be in the Los Angeles area and sense a need for security, call Bodyguards Executive Protections at 1.800.654.7797 and let us know when to expect you. We can provide twenty four hour security that begins the moment we meet you at LAX or any other location. Many of our bodyguards Los Angeles are well experienced in performing simultaneous tasks, so if you need a bodyguard that can also act as a nanny, chauffeur, secretary or personal assistant, let us know so we can hook you up with the perfect professional. If you are already in the Los Angeles region, give our Beverly Hills office a call at 310.859.2700. We are proud of our more than thirty years in the professional personal protection industry. When we protect you, we actually prevent problems from happening.
Bodyguards Los Angeles
BODYGUARDS VIP PROTECTION SERVICES
1 (866) 212-5276
1976 S. La Cienega, Los Angeles 90034
View Larger Map
Related Posts
We don't at all mind telling you that Bodyguards Executive Protections is among the most elite celebrity bodyguards Los Angeles has ever known. We have been in the close protection industry for more than thirty years. We provide personal security for celebrities, royalty, executive officers and anyone else who requires close protection.
If you found us while searching for bodyguards, Beverly Hills is just one of the areas in which we provide personal protection. We are Bodyguards Executive Protections, and we have been protecting celebrities, CEOs and other notables for more than thirty years. We not only defend you from danger, we prevent it.
Send mail to webmaster@bodyguardslosangeles.net with questions or comments about this web site.
Copyright 2011 Armguard Security - Campus Security a Los Angeles Bodyguards Company.